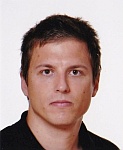 David Jure Jovan, mag. inf. in kom. tehnol.
Senior Associate and PhD student
Department of Systems and Control
Jožef Stefan Institute
Jamova cesta 39, SI-1000 Ljubljana, Slovenia

e-mail: david.jovan@ijs.si
tel: +386 1 477 36 85

Details of education
2011 Bachelor's degree at Faculty of Chemistry and Chemical Technology, University of Ljubljana
2018 Master's degree at Jožef Stefan International Postgraduate School
Career to date
from 2019 onwards employed at Jožef Stefan Institute
2017-2019 Kolektor Sisteh d.o.o.
2013 CE PoliMaT, Center of Excellence for Polymer Materials and Technologies
2012-2016 Akripol d.o.o.
Research interests
Publications
Complete bibliography: available at COBISS